About Garry's Mod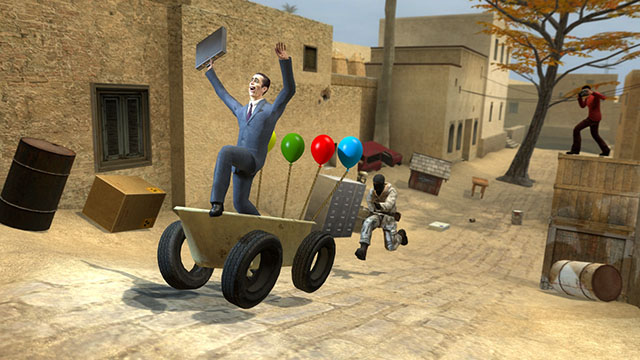 Garry's Mod (commonly abbreviated as GMod), is a sandbox physics game created by Garry Newman, and developed by his company, Facepunch Studios.
Although Garry's Mod is listed as a full game, the base gamemode 'sandbox', has no set objectives and instead gives the player the freedom to manipulate ragdolls or props such as furniture, shipping containers and dumpsters.
Props and ragdolls can be selected and placed into the sandbox from any installed Source engine game or from community created collections, such as PHX3 for props and Civil Protection model packs for ragdolls. An important tool offered to the player, the Physics Gun allows for props and ragdolls to be picked up, rotated, and frozen in place. Another important implement, the Tool Gun is a multi-purpose tool for performing various tasks, such as constraining props together, creating interactive buttons, and creating controllable winches and wheels. It can also be used to change the facial expression and pose the digits of a ragdoll. The Tool Gun can also be used to control and use add-ons created by the community, which can be only accessed through the Steam Workshop.
Garry's Mod Website Garry's Mod Wiki Garry's Mod Server Hosting